Email Signup
Add your name to our email list, and receive the latest pro-life news, updates and information from People Concerned for the Unborn Child. Fill out this short form!
Banquet Resource Guide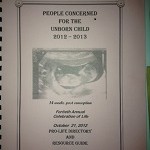 PCUC is entirely dependent on your donations to carry out our work of supporting LIFE. Our annual Resource Guide is the largest fund raiser each year and is totally dependent on you taking an ad and helping us to sell ads.
And there is even something in it for you.
  This Resource Guide is your PRO-LIFE handbook. Inside are resources of all kinds. Merchants who are dedicated to the pro-life cause so whom you can rely on to be your suppliers of goods and services. As well you will find a list of local Pregnancy Help Centers with their contact information, resources on adoption, help for student mothers, college pro-life groups, local legislators and their voting records. There is no end to the help this guide can be for you. One of the best parts is you can take an ad for a fairly low cost to commemorate a life, an anniversary, birthday, graduation or anything important to you and your family We also have a
PATRONS
page where we can list your name as a PRO-LIFE supporter of PCUC. Please consider helping us fill our book with business' and churches who support life. Contact your church, local hairdresser, bakery, or anyone who you support all year with your business and ask them to take an ad in the
2016-2017 Pro-Life Resource Guide and Directory